Chapter 11 of Rooster in the Cathedral: Reflections of a Pilgrim While Walking to Santiago
Free download. Book file PDF easily for everyone and every device. You can download and read online Chapter 11 of Rooster in the Cathedral: Reflections of a Pilgrim While Walking to Santiago file PDF Book only if you are registered here. And also you can download or read online all Book PDF file that related with Chapter 11 of Rooster in the Cathedral: Reflections of a Pilgrim While Walking to Santiago book. Happy reading Chapter 11 of Rooster in the Cathedral: Reflections of a Pilgrim While Walking to Santiago Bookeveryone. Download file Free Book PDF Chapter 11 of Rooster in the Cathedral: Reflections of a Pilgrim While Walking to Santiago at Complete PDF Library. This Book have some digital formats such us :paperbook, ebook, kindle, epub, fb2 and another formats. Here is The CompletePDF Book Library. It's free to register here to get Book file PDF Chapter 11 of Rooster in the Cathedral: Reflections of a Pilgrim While Walking to Santiago Pocket Guide.
So settle back in, the show ain't over. Here's a thumbnail sketch of my next few days: spend at least one more night tonight in Finisterre- maybe 2. Mixed in there are some naps, some blogging, some walking yes really! Location: Cape Finisterre Cape Finisterre. Sunday, September 29, The Game Plan. I couldn't leave Santiago without informing you of our that's you and me dear fellow traveler arrival.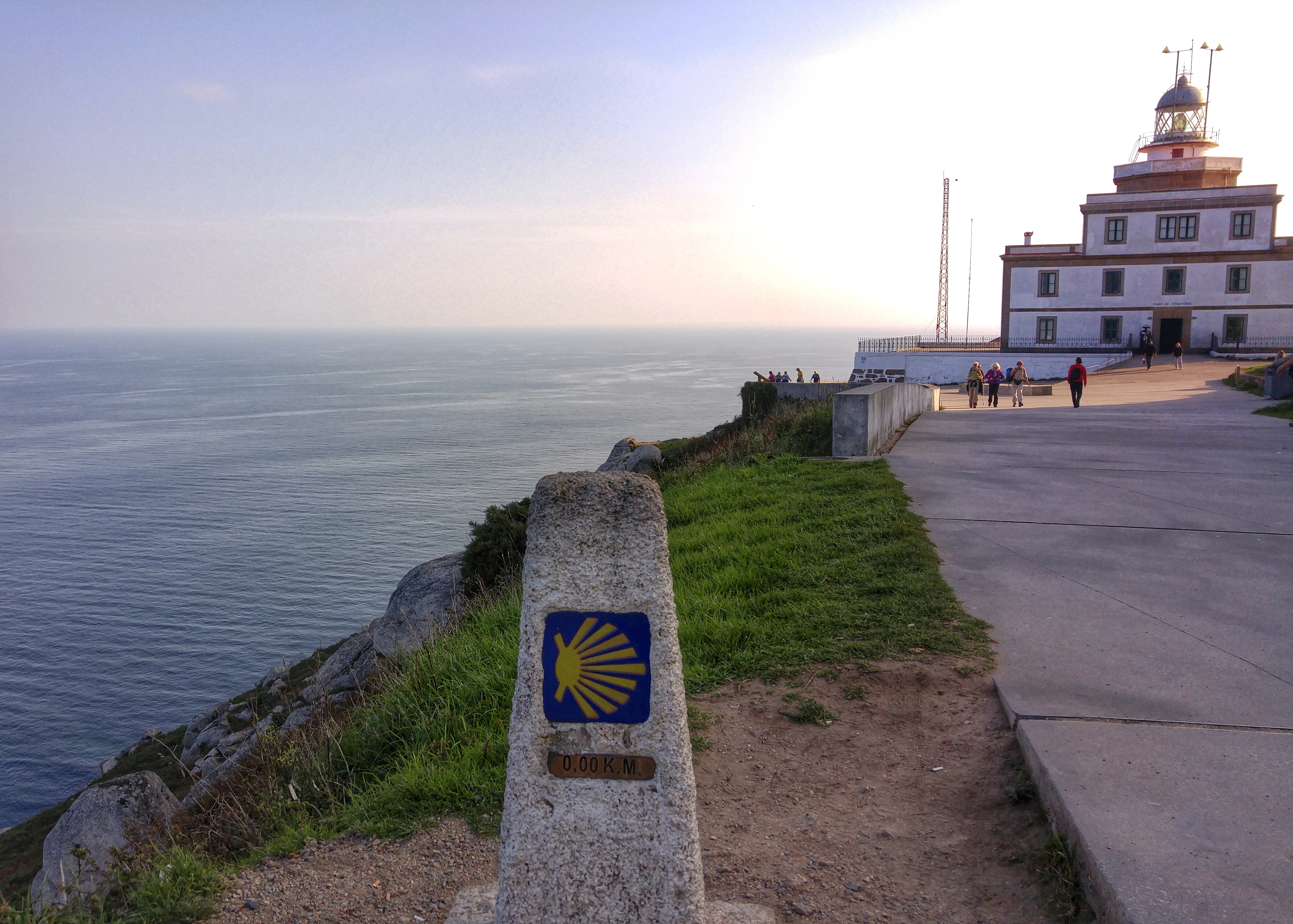 After making the final 20k in the rain with a brief stop at Mont de Gozo Mountain of Joy -- where you first lay eyes on Santiago. As we approached the gargantuan monument dedicated to JPIIs visit to the site, the rain paused and a complete rainbow appeared briefly above the city. It was absolutely surreal and my arms prickled with the kind of goosebumps Noah must have had when first seeing the symbol of Gods promise. Upon entering town still in the rain we made it to the pilgrims office where the line wasn't terribly long and after about 20minutes in the swiftly moving line I had my compostella in tow.
And boy did we. Four bottles of champagne and countless friends later we had missed the next mass, had yet to see the cathedral since we conveniently went to the upscale restaurant immediately across the street and we eventually poured ourselves into the nearest accommodations we could find. So now it's 8am- dark, rainy and cold BUT somehow it feels totally appropriate that I didn't do all of the "final" Santiago visits.
Because I'm not done. Shortly well depart for Finisterre and I'll have 2 days of walking to figure out whether I'll go to muxia, how much time I'll spend in Finisterre and how much I'll spend back here in Santiago. At this point the weather looks like it'll continue to be crummy and to be honest, I'm a little worried about trying to find my way back with the waymarkers in reverse.
Plus, if I skip the 3 day walk back that's time I have to spend doing everything I want in Santiago and maybe even a full extra day to spend in Finisterre-- ya know NOT walking. It's funny because everyone says that you really only have one destination in your heart: Santiago OR Finisterre. I didn't really believe that until now. But it's absolutely clear that this girls wet boots were made for walking.
Location: Santiago de Compostela Santiago de Compostela. Hello my dear fellow travelers! I have finally updated pictures and GPS on the right hand link so please be sure to check it out! As it currently stands I'm about 48k from Santiago and due God-willing to arrive in 48hrs. The pictures should help fill in the gaps over the past few days and I'm working on the long lists of things I want to write about and share with you when I'm a little more physically stable.
With my trip winding down and still many more km to go I've been spending a lot of time trying to soak up what remains. I'll gladly wring it all out for you in the near future but there's no time like the present to take it all in.
There shouldn't be anything terribly exciting tomorrow- just a goal of getting as close as we can to make the final day in to Santiago as short as possible. So wild to think that it just about a 30min car ride away. Stay tuned for some exciting Santiago action as well as helping me decide what to do with my time post-Santiago! Wi-Fi has been hard to come by as we've slogged through the mountains of Galicia. And frankly so has my energy at the end of the day. So- while I struggle through this section please follow me more closely on Facebook Facebook.
So thanks for your patience. And so the motto "one day at a time" continues. I tried to explain to some Spaniards the joke about eating an elephant one bite at a time but I don't think it translated well.
Well see how each day goes, but Santiago by Saturday evening is possible-- and 4 days and km never seemed so long. It's pm and whether I'll have to wait for the dryer in the morning is a mystery so I better pack it in. Location: Vilei Vilei. New pictures are up on the right hand link! I've been taking pictures of "typical" this, that and the other thing to include in the day in the life post. So I promise that it's under construction. The growing school of thought is that we can and many want to make it to Santiago in 7 days, arriving on a Sunday and ensuring we'll see the 8-person thurible.
But you know how the joke goes So, were back to taking it one day at a time. Tomorrow will be another long day God-willing but it's already WAY past my bedtime and that likely means a late start. So I had better sign off. Location: Ponferrada Ponferrada. Please keep these pilgrims in your prayers. The guidebook warns that this can happen easily and these men are just a few days ahead of me. Big Day! Big Numbers! Oh my dear fellow travelers, you must be exhausted! Not only does this evening bring to a close our 23rd day of consecutive walking, two MAJOR things happened today.
The Progressive Traveller Walks The Camino
We caught John! That's right! Remember that we were a full TWO days behind John and by plowing through a string of 30k which have been brutal we managed to catch up to John THAT is worth a glass of wine my friends! Now, the unfortunate reality is that the we've made our way back to the mountains and the next few days will be particularly challenging as even John is putting in 30k days during this stretch. So we will- as always- take one day at a time and see how it goes.
I've updated the pictures on the map so be sure to check them out on the link of the right hand side. The body is sore and tired and the most recent blisters are at least manageable Cruz de Ferro is tomorrow morning bonus: pack weight reduction! Thank you all for your continued support and interest. A day in the life post is coming I swear, but let me survive this grueling section and see what I can do for you.
Location: Rabanal del Camino Rabanal del Camino. Wednesday, September 18, Today was my longest day km-wise weighing in at Though the feet took a beating I'm hopeful that my early bedtime will help heal all wounds. I would like to do similar distance tomorrow but if the Camino has taught me anything it's that life must be taken one day, and sometimes one hour, at a time.
this pilgrim way | Our Journey on the Camino de Santiago | Page 2
Crazy to visually see on the map how much ground we've covered. You, me, and all the pilgrims out here.
The Camino (A Documentary by Edward Fleming)
It's really remarkable. Today marks the end of 21 days of consecutive walking. We both remarked how toned everything from the waist down is becoming but that the core could use a little love. I'd like to think I can make a habit of it, but we'll see. Tomorrow is the start of week 4. Cruz de Ferro is just a few days away, as is the biggest mountainous climb of the whole trip.
Yeah, that 32k on day 1 is not actually the biggest elevation change on the Camino Hopefully I can make tomorrow "a day in the life" but before I do that I need to know what questions you have so that I can pay particular attention to those areas. Some of you have asked about alarms, and waking up without getting up others an important skill to try to master and others about 'facilities' during the day.
On the Camino de Santiago
What other things would you like to know? Hello all! Just a quick note before I head out this morning, since I was flat exhausted after another 30k day yesterday. I head into Leon today and we'll see if I stay there or keep walking another 8. As I've mentioned all along, shaking the feeling that I need to catch up to John's "planned itinerary" has been difficult for me ever since I fell behind, and since I desperately want to walk to Finisterre that means I may wind up pushing back my flight.
What I've also realized has been bothering me a lot has been the idea that I fell behind the group of people I spent so much of the first week to 10 days with.
Glentanner Holiday Park, Mount Cook Aoraki
I enjoyed meeting them all so much and somehow they came to collectively provide --and I think we all did for each other-- a comforting sense of belonging. But over the past few days I've run into, gotten information on or otherwise connected with a lot of them. And it seems that the Camino has forced changed plans on nearly all of us. I can count on 2 hands the number of people who have been forced or decided to go home.
Others I've seen over the past few days, meaning that they too have left John's schedule, and others have opted to skip ahead to the minimum k point, and finish from there. Let me be clear, I don't think any of these choices are bad or wrong.
The Cheesehead Shuffle (A Quirky Midwestern Mystery);
Packing Checklist;
Pilgrimage to the End of the World: The Road to Santiago de Compostela.
It's simply an observation that not only does the Camino change us, we seem too, to change the Camino. Pretty poetic. As for me, if God is willing and the feet and body don't die, I'll continue to trek on as best I can and as close to a window that lets me do everything I want. As a group of us discussed last night at dinner, it's kind of crazy how fast Cruz de Ferro is coming up.